Hello friends and fellow gamers! I will be attending Gen Con 2019 and would love to say "hello" and talk about games with you. Here is a brief overview of what I'll be doing at Gen Con, where to find me throughout the show, and a bit about the free game content I'll be giving out during the con.
Where's Matthew?
For the majority of the show I will be teaching games at the Floodgate Games event space (ICC : Hall D : Black : 1-6). Facilitating those games takes precedence, but if you want to stop by for quick "hello", a contact card, or a free game, this will be the easiest way to track me down.
Outside of this, I will be roaming the floor, attending some events, and generally just hanging out. If you want to keep tabs on me or reach out for a meet-up, please follow me on Twitter @mrmatthew.
Mall Kids Micro Expansion
I have brand new contact cards featuring Kaitlin Bruder's fantastic Mall Kids cover art. On the back is a micro expansion for Mall Kids. Happy to hand these out to anyone who is interested in getting in touch with me and/or having a cool micro expansion for Mall Kids. You can check out Mall Kids on Itch.io.
Stories in the Sand
I created a single-page contemplative game for one about beach combing and self-reflection. These are free to anyone who wants one but quantities are limited. I have 100 to bring to the show and will try to spread them out across days to make sure everyone has a chance to snag one. There will also be a free PDF version released after Gen Con for those who can't make it.
Mall Kids Meet Up
I'm very excited about this one! You can come meet me and Kaitlin at the Circle Center Mall Food Court on Thursday, 8/1 from 6:30 – 7:30 PM for free Mall Kids swag, hang out, and maybe even some one shots. This is open to anyone who can make it to the mall, no badge or tickets required. You can access the mall via skybridge from the convention center. Here, I made this terrible map for you!
Sign Mega-Game
This year is my first time running my own event at Gen Con and I am super excited for it! In a game mode I learned from the designers themselves, we're going to be playing multiple games of Sign and then connect them through a shared recess. The crossing of classrooms and signs is an great way to visualize how language organically grows and spreads. You can learn more about Sign and purchase a copy on the Thorny Games website.
Mint Tin Game
I am currently working on a storytelling game that fits entirely in a mint tin for The Game Crafter's mint tin contest. I have just finished the first prototype and will be looking for folks willing to sit down for 20-30 minutes and test it out. I will be looking for general feedback and suggestions on how to make the game as easy to learn and fun to play as possible.
Humblewood
The Deck of Many will be in the Exhibitor Hall at booth #2961 for you to check out Humblewood. There you can check out prototypes of the book and other content. I will hopefully find some time to be there as well, so check out my Twitter feed for when that might be happening.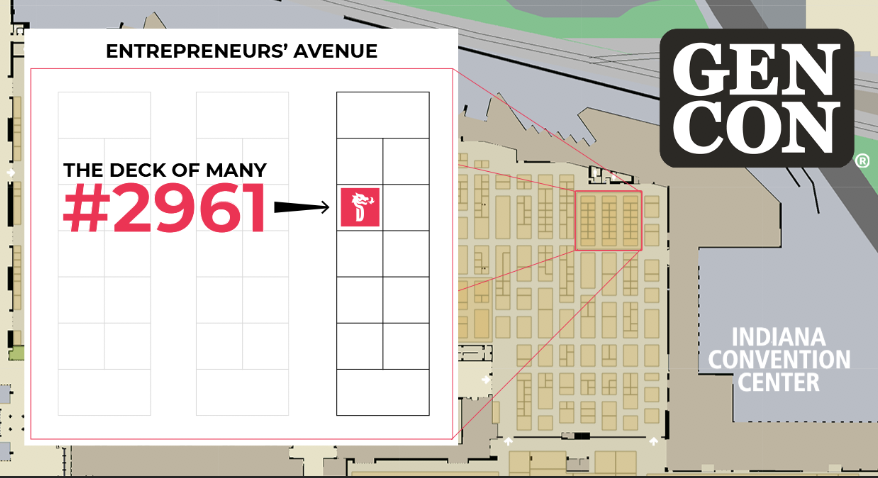 That's It!
I hope to see as many of you at the show as I can. Everyone have a safe, fun, productive Gen Con this year!